"The 26 vivid photographic portraits and accompanying narratives display the author's humor, grace and a brilliantly creative eye. Carlip's alter egos are larger than life and twice as entertaining... A hilarious, delightful, unique achievement." - Publishers Weekly (starred review)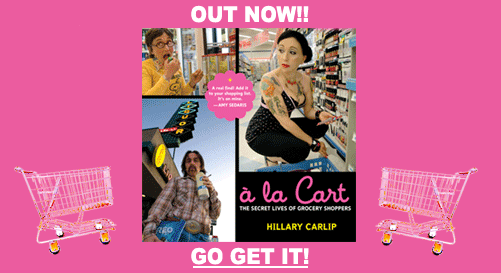 7/21/09 :: SHOUT OUT FROM RACHEL RAY!
One year and four months since A la Cart came out, and people are still raving! In her mag, Everyday Living, Rachel Ray picked it as a FAVE thing of hers, and said the book made her "laugh out loud!" Check it out.

12/6/08 :: American Public Media
Interview on the fabulous show, The Splendid Table. Plays in 200 markets throughout the week. Check web for local listing, or listen online at: http://splendidtable.publicradio.org/ (You can forward to my interview at 44:00!)

9/11/08 :: PART 2 of NPR's Day to Day INTERVIEW!
So after my last interview, tons o' peeps sent in their shopping lists and I picked one. I created a NEW SHOPPER based solely on the list, and was photographed as "JEFF."

Hear part 2 of the interview, along with some comments from the real listmaker, and see the actual pic of him, along with the pic of who I imagined the list belonged to!!! GO NOW!

7/28/08 :: MO' GOOD NEWS! Tuesday 7/29, I will be featured on NPR's Day to Day in the FIRST of a two-part segment! Check for your local listing, or read the piece and hear it online -- complete with an A la Cart slide show! At the end, there will be a request for you to SEND IN YOUR GROCERY SHOPPING LISTS. I will be selecting one list from all sent in, then creating a NEW SHOPPER based on that list! Then NPR will videotape me in the market as the new shopper AND also meeting the REAL person behind the list, and feature the clip on their site. IT COULD BE YOU!

Also, A la Cart is the FEATURED BOOK on MySpace Books this week, and to celebrate that, I have a SUPAH SPECIAL BLOG on my MySpace page including a BIG, PHAT CONTEST with BIG, PHAT PRIZES! Check it out!!

5/13/08 :: I KNOW IT'S BEEN AWHILE... But I've been so freakin' busy touring, doing interviews, and trying to MAKE news, that I've had no time to REPORT news! But LOTS going on! Wanna see a fun-filled video clip?

Here's a clip of me taking a Wall Street Journal reporter grocery shopping!

And there's a radio interview I did on TRAILER TALK, a KILLER show that's taped in (and sometimes airs live from) A VINTAGE TRAILER! The fabulous host/creator Sabrina Artel, drove to my Barnes and Noble reading in New York, and she interviewed me and some other fab peeps who happened to pop into the trailer to talk about A la Cart!

4/9/08 :: MO' KICK ASS PRESS! Not only is there a fabulous feature story in the L.A Times today, but I was also featured (pic and teaser) on the FRONT PAGE!

<------------

READ ALL ABOUT IT! and so much more RIGHT HERE!

3/28/08 :: BACK FROM FIRST LEG OF TOUR! And boy, was it fun-filled! Several events in Chicago, but one was in a big, phat theater, and I read with esteeemd authors JUNOT DIAZ (WHO JUST WON THE PULITZER PRIZE!) and ZZ PACKER! (Mucca Pazza is a KILLAH punk circus band!) New York was chock full, and LA, too!

3/11//08 :: COMING THIS WEEK! A feature story about A la Cart in Entertainment Weekly!

3/4/08 :: FABULOUS BUZZ! I'm so grateful that A la Cart is getting advanced buzz! Not only a *STARRED* review in Publishers Weekly, but lots o' interviews and feature stories are coming out. And a SIX-PAGE spread in Los Angeles Magazine just hit the stands! WHOO HOO!