Between the Lines: Performance artist collects grocery lists and creates characters to match them
By Hillary Rhodes, AP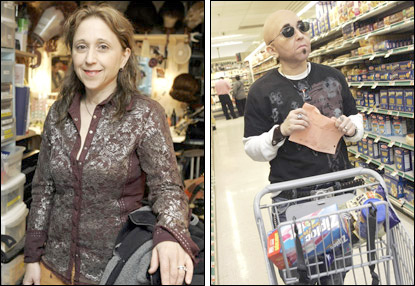 Hillary Carlip (left) dressed herself as "Troy," (right), and went shopping for the items on a grocery list she found.
It began with an abandoned grocery list, found on the ground outside a market in New York.

Written on the back of a dentist-appointment reminder, must-have items included Twizzlers, gum and peanut brittle.

Who would do that, wondered the performance artist who found the scrap? Somebody who doesn't care about dental hygiene? Or maybe somebody with a mischievous streak?

Whoever it was, Hillary Carlip got stuck on the idea of the lives behind such lost lists. She realized you can tell a lot about a person based solely on what they need at the grocery store, and the idiosyncrasies of how they write their list.

An author and performance artist in Los Angeles, Carlip has been collecting abandoned shopping lists for decades and recently took it a step further: She concocted elaborate stories about the people who had written them, then remade herself as those imaginary characters, dressing up and going to the store with their note. The results can be found in her new book, A la Cart: The Secret Lives of Grocery Shoppers (Virgin Books).

One recent afternoon in New York, Carlip, who declines to give her real age because of all the transformations she makes across the generations as a part of her livelihood, went backstage at the Neil Simon Theatre, home of the musical Hairspray, to get hair and makeup done for one of her characters.

An artist for Hairspray, Mark Manalansan, gelled down Carlip's long, wavy, strawberry-blond hair and put on a bald pate, which he covered in makeup to blend with her skin. He darkened the lines in her face to look more masculine and glued on thick, brown eyebrows and a scruffy soul patch just below her lower lip.

"That's hot," another makeup artist mused. Carlip was Troy now, a rocker wannabe who is trying to quit smoking just one of many characters in the book.

Troy's list is typed out on an orange sheet of paper, and his items are put into categories like, Canned Goods, Paper/Plastic, Frozen and Personal Care. In that last category is written, Spray-on Jock itch stuff.

Another of Carlip's collected lists, written on a piece of torn red envelope, says, Liqor, Liqor, Liqor, Liqor. Carlip decided that the misspelled rambling was the work of Kim, a motorcyclist with a drinking problem and long-lost daughter whom she had at 15.

To dress as Kim, Carlip wears a black leather vest, heavy silver jewelry and a couple of faded tattoos on her forearm. Some scraggly blond curls shoot out from under a red bandanna.

Another found list reads simply, Mouse traps, cheese, Mouse. Here, Carlip imagines the scribe to be Derrick, a 22-year-old bi-polar outcast who loves Ozzy Osbourne and still lives at home.

He wears a dark trench coat over a T-shirt with a devil on it. He has long, black sideburns and some stubble.

It's those basic human emotions and personal histories that Carlip taps into by exploring shoppers psyches based on their lists, their handwriting, the paper they use and other idiosyncrasies, such as spelling errors. One shopper wrote aunt spray instead of ant spray.

By activating these various characters and their lists, Carlip has gained insight into modern American culture and the universal human condition, she says.

"There are a lot of different kinds of people," she says," but there are also a lot of similarities, and there are core human-nature things that connect us all."
"There's longing, people want to feel connected, and there's loneliness. There's hopes; there's big dreams; there's looking for just a place to belong."

In her book, Carlip brings 26 such characters to life. Covering a huge range of ages, ethnicities and body types, she displays images by photographer Barbara Green with all the personalities, alongside their imaginary bios and real-life grocery lists. It's like a one-woman show in the form of a book.
Carlip says that when she stages her poses inside unassuming grocery stores, she usually fools people successfully and doesn't get looks. Some of her over-the-top characters do, though. Artist and punk music-lover Darcy, for example, elicits stares because of the chain that hangs from pierced ear to lip.
Meanwhile ex-porn star Pammy, whose enormous breasts spill out of her off-the-shoulder T-shirt, was getting hit on in every aisle, Carlip said. She had two men offer to help carry out her groceries.
Carlip-cum-Troy glanced at herself in the mirror. She tightened her mouth and let her eyelids go heavy. She was channeling Troy, the lead singer in an unknown New York rock band who is trying to get in shape for the sake of his music.
Carlip went into a dressing room to put on her binding, and came out with a flat chest and no hips. She wore a black T-shirt over a white long-sleeve shirt, low-riding jeans and black sunglasses, to create the look of a sloppy hipster.
Then she (or he, by this point) went to the nearest grocery market to pick up various items on the list: bananas, potatoes, carrots and blue corn tortilla chips.

The store didn't carry jock itch stuff.